2020 has been anything but ordinary for Hartmann

Not an ordinary year for Hartmann or the egg industry
2020 has indeed been anything but ordinary in the exciting world of egg packaging!
Hartmann started the year well and enjoyed a solid volume growth in the first quarter – enabled by investments in capacity at several plants. At that time, the volume uptick was mainly driven by plastic conversion and demographics, which are two long term growth drivers in most markets. Earnings grew as well caused by high capacity utilization, improved product mix and a temporary price drop in certain raw materials. Great start of the year – and then everything changed when COVID-19 hit mid-March.
Suddenly, supermarkets could not get enough eggs as consumers were working from home and eating less in restaurants, leading to a spike in shell egg demand. Hartmann was faced with new operational risks; could we get raw materials; would we be able to staff our plants? And faced with closed borders across Europe; could we get our products to our customers?
The response was to beef up raw material inventories, widen the supply base, safeguard our plants by a multitude of measures and increase output by streamlining the product offering. Luckily, borders never closed for movement of goods, and we managed to keep the wheels running without missing a beat in production.
A historical momentum yet feeling the pandemic in a most unwanted way.
Typically, Q2 is a low-season quarter as egg consumption typically drops in the summer months. However, this year we sold every carton we could produce, we emptied our inventories, and still, the customers wanted more. Against a very sad background, Q2 became the best quarter ever in our 103-year history.
Going into Q3, we all hoped the situation would stabilize. It did not. Customers kept wanting more. Our supply capability was hampered by low inventories and a need to shut down our plants for some days to allow staff their annual summer vacation. Whilst the planned shutdowns were greatly minimized, we could not keep up with demand during the quarter. We supplied far more than usual to our customers, but they needed even more.
We encouraged some customers to switch certain SKUs to plastic and put all customers on volume allocation to ensure everyone would get their fair share of capacity. Not easy to keep everyone happy despite everyone receiving far more products than usual.
Demand continued strong going at the end of Q3 and going into Q4, but sadly so did the increase in worldwide COVID-19 cases.
Contrary to Q2, we were no longer able to keep all plants running at all times. Europe, Israel and Brazil had the least impact – but had to work hard to keep all lines staffed. In North America – at our US plant in particular – we have faced several line shutdowns because of COVID-19 related absenteeism and the output is consequently below par. In Argentina, we have lost several production days through absenteeism as well, but far more tragically, our Human Resources manager, Ricardo Britas, lost his life to COVID-19 at the age of 56. So certainly, in the most unwanted way, Hartmann is feeling the impact of the global pandemic.
Significant investments in 2020
Hartmann is investing a total of DKK 600 m. in 2020. The investments are made across the globe and encompass: A brand new plant in the northeastern corner of Brazil, capacity expansion at our European plants and a significant expansion of our US plant in Missouri.
Additionally, Hartmann has acquired the largest pulp moulding plant in India and has signed a deal to acquire a major plant in Russia. In addition to handling the COVID-19 situation, there has been no shortage of things to do in 2020.
Outlook into 2021
We hope that the pandemic will end soon. But which influence has it had on the Egg Industry?
Nobody doubts there will be a global economic downturn. It will be different in intensity from region to region but will have widespread implication. People will generally have less money, and this will change consumer behaviour. One reasonably safe prediction is that many consumers will trade down.
The egg industry – and with that Hartmann - is well-positioned for a global economic downturn as the sale of eggs will benefit from consumers trading down. Eggs are the cheapest source of animal protein, and when consumers trade down, product species will most likely be in the following sequence: Veal->beef->pork->poultry->eggs and on product groups it will most likely be: Steaks->breast meat->sausages->minced meat->chicken legs->eggs.
We also expect the down-trading to impact the sales channels after the reopening of restaurants. Here the expected sequence is: Restaurants->premium retail->fast food->supermarkets->discount retail. Fewer products will likely be sold through open markets noting the virus originated in such. Furthermore, we expect the down-trading will affect the consumers to trigger the following sequence on egg types: Organic->free range->Barn->cage.
Consequently, the best guess is that packaging sales will not suffer during an upcoming financial downturn. The volume will likely go up, whereas the product mix could suffer a bit. Hartmann's growth developed favourably during the previous financial crisis, and we are entering the upcoming economic downturn with very solid financials.
Further, Hartmann is made up by a strong group of employees, who have shown incredible resilience and loyalty during these challenging times.
Looking ahead, we have high expectations for 2021.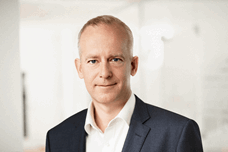 Torben Rosenkrantz-Theil, CEO, Hartmann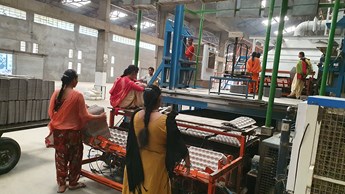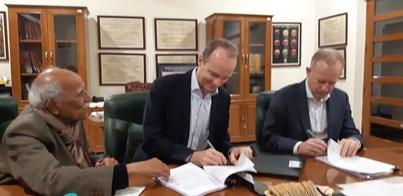 Meet this year's global award winners in our three THORNICO Award categories; Company Karma, Idea and Synergy.

Meet this year's MyKarma Project winner Ozge Sabuncu and learn more about her fantastic project, One Bag = One Hope.

When we build new production and logistics facilities within our group, we need to consider the green transition in the process. Read more about our investments in i.a. solar energy, here.