ANNUAL ACCOUNTS 2021
THORNICO reaches milestone


It is with great excitement that we today post our 2021 annual results for the entire THORNICO Group. Despite the continuing impact of the global COVID-19 pandemic and challenging market conditions across industries, THORNICO comes out with historical earnings and revenue records for 2021. 


Christian Nicholas Stadil, CEO and owner, THORNICO:
"2021 has in many ways been an extreme year with COVID-19 influencing various markets especially in Q1, as well as with substantial rising commodity and energy prices in Q3 and Q4. However, our conglomerate structure, with risk diversification across various industries, markets and product groups, has once again shown its relevance." (...) 


Thor Stadil, Chairman of the Board, THORNICO:

"The biggest revenue driver in 2021 has been our shipping company THORCO PROJECTS, which with its new asset-light business model has been incredibly skilled at taking advantage of the unique market situation in the world. The challenges that other companies in the THORNICO Group experiences regarding cargo, THORCO PROJECTS manages to make a profit from." (...)


Watch the video announcement presented by
our CEO and owner, Christian Stadil.
Read more in the official press release below. 

Press release (English):

Press release (Danish)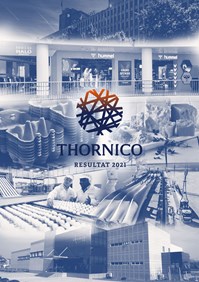 Our CEO and owner, Christian Stadil, has been appointed Honorary Consul of Bhutan. Read his statement here...

Company Karma is in our THORNICO DNA, and that's why we are proud to share hummel's new Karma Project LET'S PLAY AN EQUAL GAME.
Together with hummel, we are excited to introduce you to the new shirt for Denmark's national women's football team.